We held our last dance exams session in December2018. Students took examinations in Tap, Ballet, Irish, Street and Musical Theatre. We achieved a 100% pass rate once again! A wonderful set of results, with everyone achieving higher than a pass, and some Distinctions and Honours aswell for some of our students! We are very proud of all that our students achieved.
We put all our students into exams as regularly as possible. However, we don't believe in entering our students into dance exams before they are more than ready.
We will be holding our next exam sessions in July and in the Autumn. For more details regarding the examination process please feel free to contact us our put in a request via our HOME page
types of exams offered
graded exams
Graded exams are offered in ballet, tap, modern jazz and musical theatre. The graded exams have very high expectations. There needs to be a high commitment to the classes and a determination from the student to be able to achieve the standard required in the various different dance disciplines. The students can take a graded exam on their own, but can have up to three students in an exam. The teacher doesn't enter the exam studio and the dance students will go in on their own from the youngest to the oldest dancers. Graded exams, once above a certain level have a certain number of credits towards further education. Successful candidates will receive a certificate and an award.
idta rosettes
IDTA Rosettes are available to take in different dance disciplines. To date we have entered our children into Freestyle Rosettes. Rosettes are available to children aged 3 to 8 years old and come in a series of rosettes. They can take up to 15 rosettes before they move on to medals. The children are able to enter into their rosettes in groups and can have a teacher dance with them. These are ideal for those children who have a passion to dance and get to have something to show for all their hard work in their dance classes. Successful candidates will receive a rosette.
classwork assessments
Classwork Assessments are available in Ballet, Tap, Modern Jazz and Theatre Craft. These are taken in a class situation as if the teacher is taking the lesson. A maximum of 6 students can enter at a time. These assessments are ideal for any students that are perhaps not quite ready to take a graded examination or are not confident enough to take a graded dance examination. However, these are still graded and each student will receive a certificate and pin badge for their effort.
medals
Medal tests are available in different dance disciplines. These can be taken by the students in groups. They are split into a Bronze, Silver, Gold and Gold Bar awards. With each award there is an expectation of illustration that there has been improvement in the dance discipline and they will also be required to perform more dances each time. The teacher does not go in with the students for these exams. Successful candidates will receive a certificate and award.
musical theatre stages
Musical Theatre Stages are new to Evolution Dance Academy! Following the introduction of the Musical Theatre class to our timetable we are now able to offer Musical Theatre Stages to any student who wants to take part. The examination requires the students to perform set exercises along with a musical theatre piece for the examiner.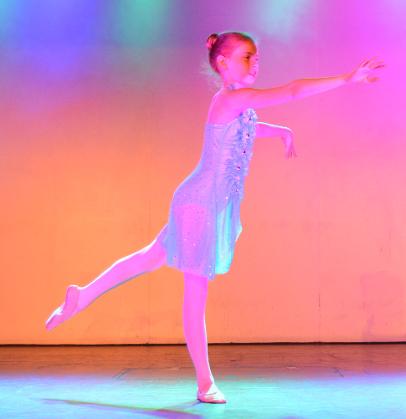 examination fees
The fees for the exams vary according to the grade of the dance discipline and the type of examination that is being taken. On average the prices range £15 - £50 per dance exam.